Listening to Our Members
We use these semi-annual surveys to listen to our members and improve our services. I am happy that our members acknowledge our efforts.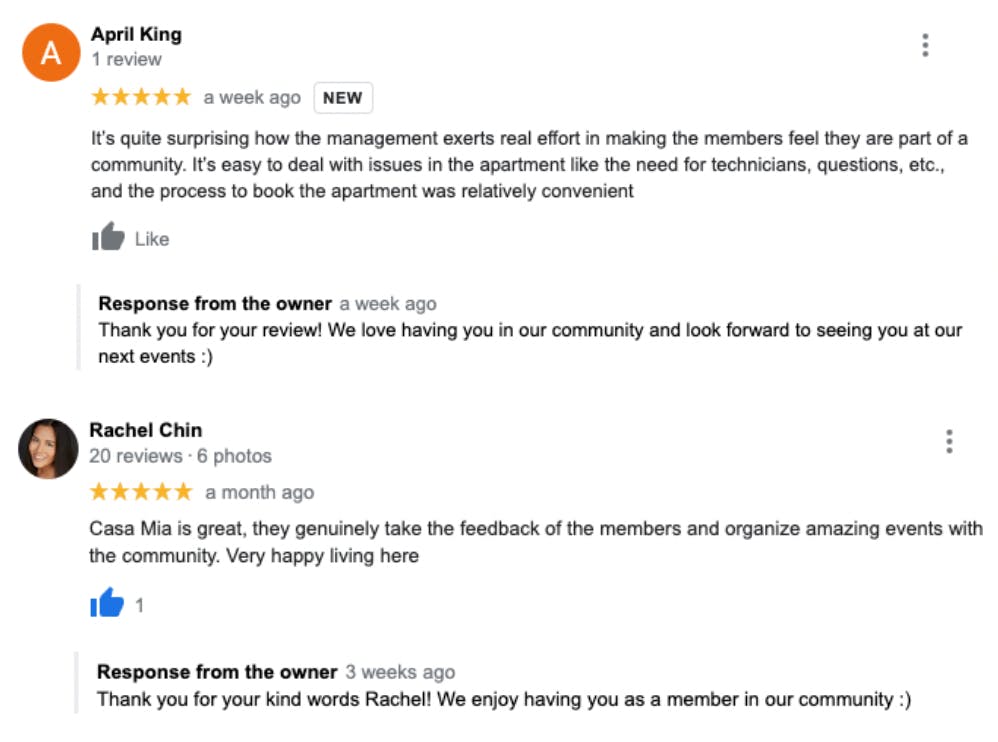 In the last semi-annual survey (Feb 2022) we received feedback on the response time on issues, the cleaning service, and introductions to housemates. Over the last six months, we have been able to improve on a few aspects highlighted by our members.
Response time on maintenance issues
As part of our Easy Living solution, we are here to help with any issues that our members have while living at Casa Mia Coliving. To improve on our response time:
First we hired two new Casa Mia Coliving employees to improve on the response time on issues! Claudia, our Community Manager who helps assist with any issues our members may be facing (more about her tasks here) joined us in February. A few weeks ago, Claudia hired a new Assistant Community Manager, Zul. 
We also upgraded our in-house capabilities staff with a new Handyman joining the team. Yusof is the first line of response in the field when there are any maintenance issues. 
Consistency of cleaning service
All our homes come with weekly cleaning including in our rates. Our members wanted a more consistent cleaning service. During COVID and in the months after, cleaning was one of the most challenging aspects of our business. 
Since the last survey we added one more vendor as well as our first Housekeeper, with great feedback from both. 
We have improved on our cleaning checklists, adding monthly tasks, and we have increased the number of house surveys conducted by the Community Team.   
While there is still room to improve on this, with the recent improvements in the labor market in Singapore, we are confident that we can continue to further improve our cleaning services. And to confirm this, from the latest survey we learned that 40% of our members who have been with us more than six months agree that cleaning got better. 
Introductions to housemates
Finally, our members asked for an improved experience when it came to introductions to their new housemates. 
Over the last six months, the Community team has made sure that 100% of new housemates get an email intro – no exceptions. 
We have also launched monthly welcome drinks for new members, since the month of May, to get new members to meet others' joining at about the same time. And thanks to the relaxation of the COVID-19 restrictions, we have been able to hold larger in-person events.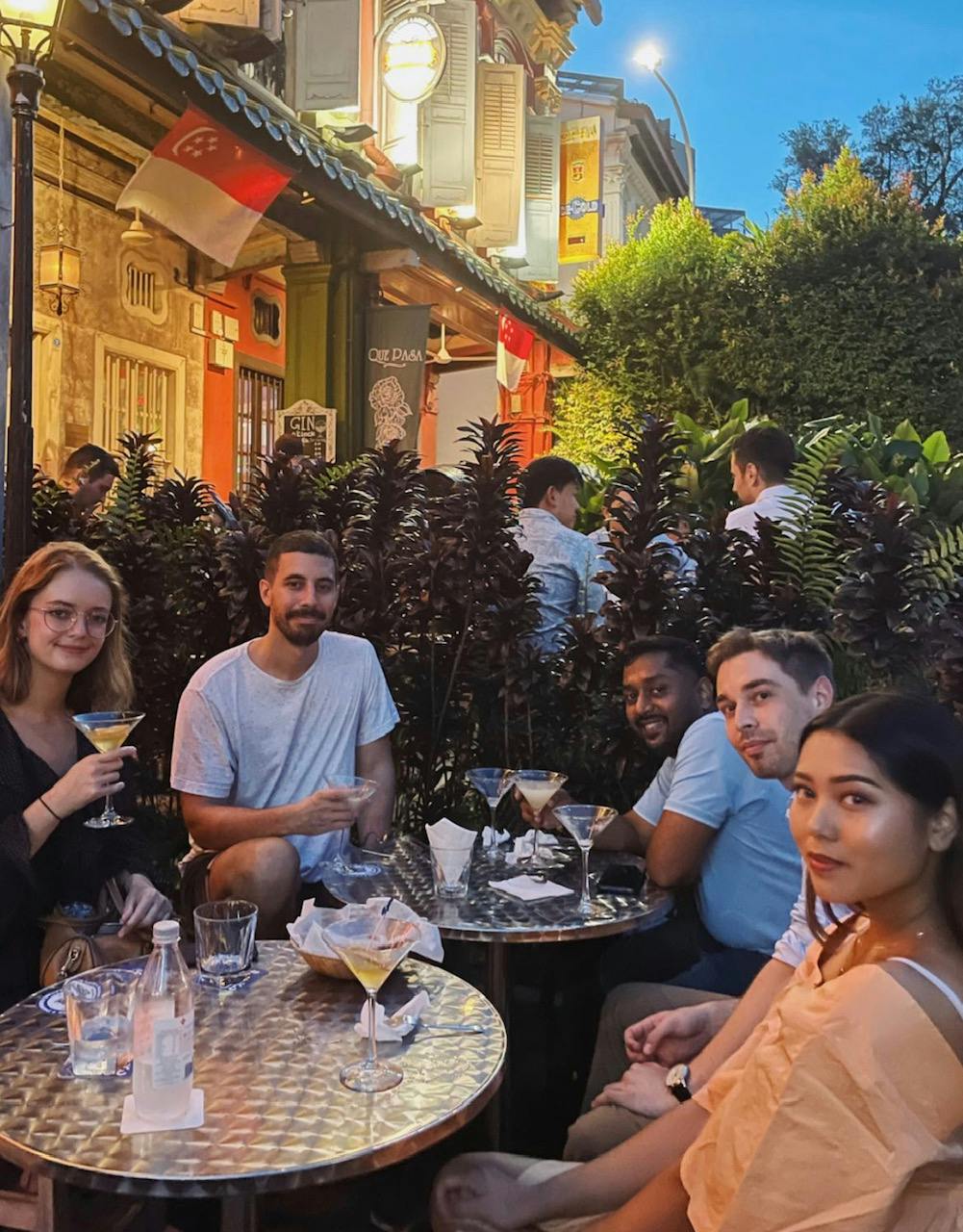 We Learned a Few New Things 
Here are some of the highlights from this round of survey.
From the survey that we just closed in August 2022, we learned housemate selection and events are areas for further improvement.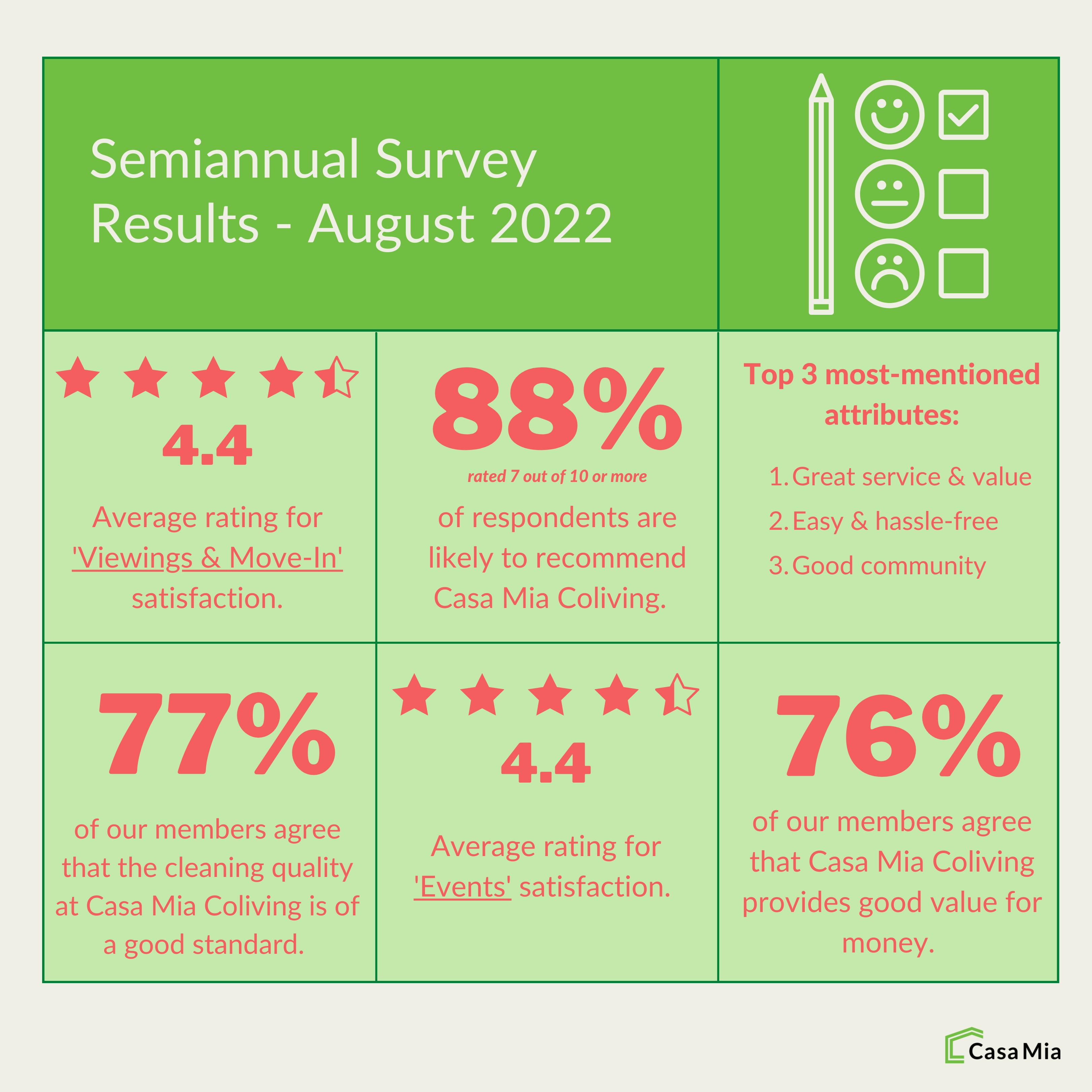 Housemate selection
The housemate introductions have gotten better, but there are still improvements to be made when it comes to the selection process. A couple of comments from our members suggested they could hold interviews for new housemates. Although this is a great idea, it is not very feasible on a scale of 200 rooms.. This is also very timely feedback as we recently designed a pre-selection questionnaire. Designed by a psychology intern from the National University of Singapore with guidance provided by a faculty member, we created a tool to improve the process of selecting and matching members.  
You can find out more information about this approach here! 
Events
Our members are happy with the events in place, but want more – we can't blame them! :) We always try to have at least three sets of events planned per month. 
Our most established event, First Friday. Even during the various lockdown periods we held virtual 'First Fridays' (they were great fun).
On top of that we usually host one active event, such as a weekend hike or a group yoga session. 
And then we host events to welcome new members as well as neighbour meet-ups–so that our members can get to know others that live nearby! You can find out more about our existing events, here. 
Over half of our members are keen for us to organise more events and would be willing to pay for these events! 
Lastly, through the use of our Facebook group we are determined to increase the number of member-driven events and conversation. For example, if someone is interested in going to a sports bar over the weekend or wants to plan a kayaking trip to Pulau Ubin, they can just post into the group and ask members if they would like to join. The Casa Mia Members' Facebook group can also be used to share tips or recommendations for things such as nearby coffee shops, best bars around town or any cool events that are coming up. With over half of the Casa Mia community in this Facebook group we're looking forward to seeing members interact and share their experiences. 
Other General Feedback
Overall, 88% of our members would recommend Casa Mia Coliving to their friends and family :) 
We also asked our members for any other general feedback and suggestions that have either helped make their stay great or how it could be even better, here are some of the comments:
"Awesome team, very responsive. I feel safe staying and fuss free staying with Casa Mia!"
"Clean, well kept rooms. Easy and hassle free."
"Good homes, good service and hassle free move in. Perfect for anyone coming from outside Singapore."
"Casa Mia listens to what I have to say."
"Overall good services, very nice team, willingness to keep people entertained through different set of group activities: thank you guys! :)"
"Good practice to arrange people of similar age group together; good activities organized."
Continuously Improving
These semi-annual surveys have been vital for us to keep improving and making this the best coliving experience for our members. We want to challenge ourselves and go beyond members' expectations. 
I am proud of the team's achievements. From the Community team taking care of day-to-day issues, to the Sales team making it easy to find a new home, to the Marketing team organizing fun get- togethers for all our members… We are almost three and we are proud that we have lived up to our mission of making it easy to move to a new city. Keep it up, team!
Have a read of our latest semi-annual survey results (Feb 2023), here!