Quarantine, SHN, HQO, Isolation…
Whatever the name for it, a huge number of people around the world will have had to do some form of quarantine or another. Understandably, this can be a stressful experience. The thought of not being able to leave your room or apartment for days on end is not normal and takes adjusting. 
A number of incoming expats in Singapore, as well as myself, will have had to serve a Stay At Home Notice (SHN) in a hotel room rather than your own home. Thus, we have managed to collect from our Casa Mia members a few tips on how to keep a sane body and mind during these weeks. 
1. Exercise
Incorporating exercise into your day is a great way to not only tire yourself out (you may know the feeling of losing the sense of time in quarantine) but also keep a fit mind. So, pack yourself some resistance bands or ask a friend to deliver you a yoga mat so you can comfortably do a 20-30 minute workout each day. For those flying into and serving SHN in Singapore, there are plenty of treadmill or bike delivery options! 
2. Journaling 
Journaling is another amazing way to keep track of your mood, write down your fears, concerns or worries and learn ways to better control these. It also will help you to relieve any stress or built up tension and allows for you to self-reflect and improve your mood. Have a read of this article to learn how journaling can help your mental health, here. 
3. Stay virtually social
Try and stay in contact with your family and friends and speak to them frequently. Whether it's a group Zoom party with all of your friends, or a quick FaceTime with your parents at home; being able to talk to people and express how your day is going, good or bad, it can give you a huge boost in happiness. 
4. Healthy snacks
If you are quarantining in a hotel or at home, you will most likely have the opportunity to have food delivered to you, be it by your friends or a delivery service. Having healthy snacks around is also important for your mental wellness and can help you with your sleeping pattern!
5. Down time & meditation
You don't always have to distract yourself from the (brutal) fact that you are stuck in a room/apartment for days on end. Give yourself some time to relax and meditate and reflect on your day. You can do this right before you go to bed as it usually helps you fall asleep a lot faster too!
6. DANCE!
"I have done this!" one of our Casa Mia Coliving members who also recently served SHN did this, I am pretty sure we have all done this. DANCE! Once you reach that halfway point of your quarantine you might experience a low point, pick yourself up, turn up the music and have a dance. Trust me, you will feel a lot better after this. And if you need a lead, try Just Dance.
Mental health and wellness apps
With this surge in symptoms of depression, anxiety and other mental health diseases, comes the demand for more virtual help. Co-founder and CEO of Singaporean mental health and wellness app, Intellect, notes that there has been a huge increase in demand for these sorts of apps over the past year. A comment made to CNA by Theodoric Chew, saw him express his beliefs that "the pandemic has blurred work-life balance and reduced social interactions, leaving employees feeling isolated and disengaged."
Self-help apps
For those that are interested in virtual self-help apps, journals, mood trackers, therapy and a lot more have a read of the below apps. This list we have created includes some of the top rated mental health apps around the world. Some of these apps are completely free, some have free trials and a few require a subscription. Have a look below:
Mindfulness and meditation apps
For those that are looking for mindfulness and meditation apps, look below: 
Mental health assistance in Singapore
Towards the end of this year, Singapore's Health Promotion Board is planning to roll out an online mental well-being platform. This platform aims to provide users well-being content and information for individuals or their loved ones. This tool will be available on the HealthHub once it has been launched. 
Here are some other resources in Singapore you may wish to have a look at.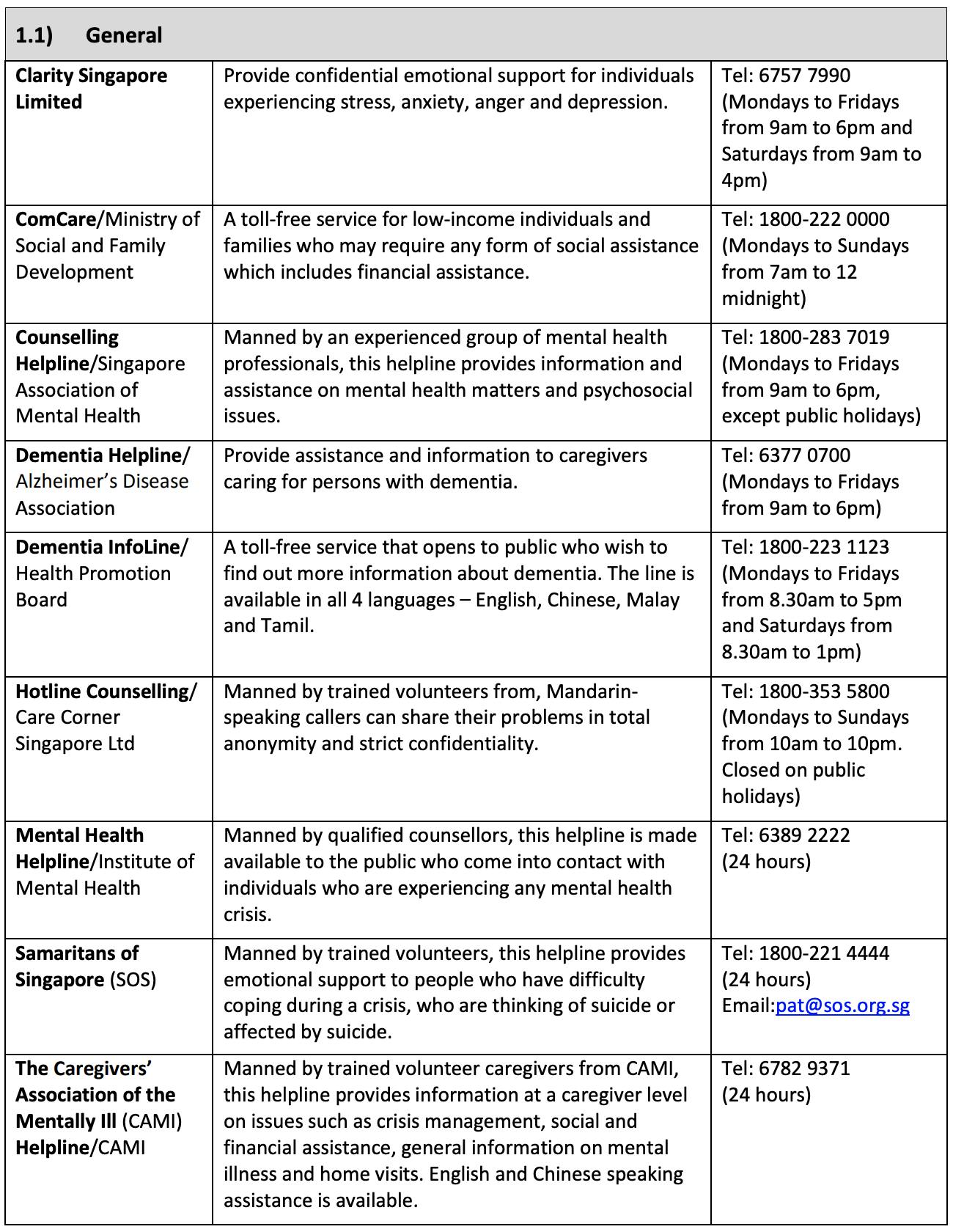 You can find this table here!