Types of Properties in Singapore
Here is a quick overview of the types of accommodation. There are three types of residential properties:
Landed properties--more common in the suburb areas further from the city centre 
HDB--you will hear this term frequently, it stands for Housing Development Board and is public housing that is (generally) offered to Singaporeans and Permanent residents
Condominiums--the high-rise buildings
In all of the above accommodations you can either rent the whole space or you can rent just one room, which would then be classified as coliving.
Furthermore, there are two types commercial buildings that may be also be your (temporary) home:
Serviced apartments (which we will expand on later)
Hotels
Long Term vs Short Term Stay
Depending on your length of stay, there are different types of accommodations that you are eligible for. In general, the minimum stay for rental properties, including coliving spaces (such as Casa Mia Coliving) is three months. It used to be six months, but luckily this has now changed. So, if you are looking for accommodation for three months or more you are able to rent a coliving room or a whole apartment. Another important aspect to note is that a valid visa is required to be able to rent a coliving space or whole apartment  
If you are only looking for a short term stay, which is regarded as a stay of less than 3 months, you will have to look at staying at a serviced apartment or a hotel. 
If you are staying in Singapore for anything between seven days and three months, serviced apartments is the route to take for you (of course you can also choose to stay in a hotel, but that will be more expensive in the long run). 
Finally, if you are looking for a REAL short term accommodation, less than a week, the only option for you would be to stay at a hotel. 
What is a Serviced Apartment?
To cut it short, a serviced apartment is a fully furnished apartment (can be studio, 1bdr, 2bdr, etc.) that includes all amenities that you would also find in a hotel and tends to include a kitchen area. Housekeeping services and utilities are also paid for. 
A serviced apartment can be extremely useful even if you are looking for long-term accommodation (have a look at our move-in guide here). The cost of staying in a serviced apartment compared to staying in a hotel is more affordable, and the rooms are often a lot bigger and generally allow for more freedom and convenience. Many expats opt to move into a serviced apartment for a short period of time whilst finding their long-term accommodation. Yes, virtual tours are amazing (check ours out) and convenient  when abroad but wanting to view accommodation in-person is understandable. 
The cost of the serviced apartment depends on the location. Much like when renting a standard apartment, central areas, such as those in Orchard or Tanjong Pagar, will naturally be more expensive than those on the outskirts. Having said that, the number of serviced apartments in less central locations is not as common. If you compare these prices to a hotel in the same locations you will quickly notice that living in a serviced apartment is the more affordable option.
What is Coliving?
Like in a serviced apartment, coliving homes are typically fully furnished and serviced. Unlike serviced apartments, coliving in Singapore is for longer term stays (3 months or more), and they come with more than just the accommodation itself. If you are interested in learning more about coliving options in Singapore, check out: Casa Mia's Complete Guide to Coliving in Singapore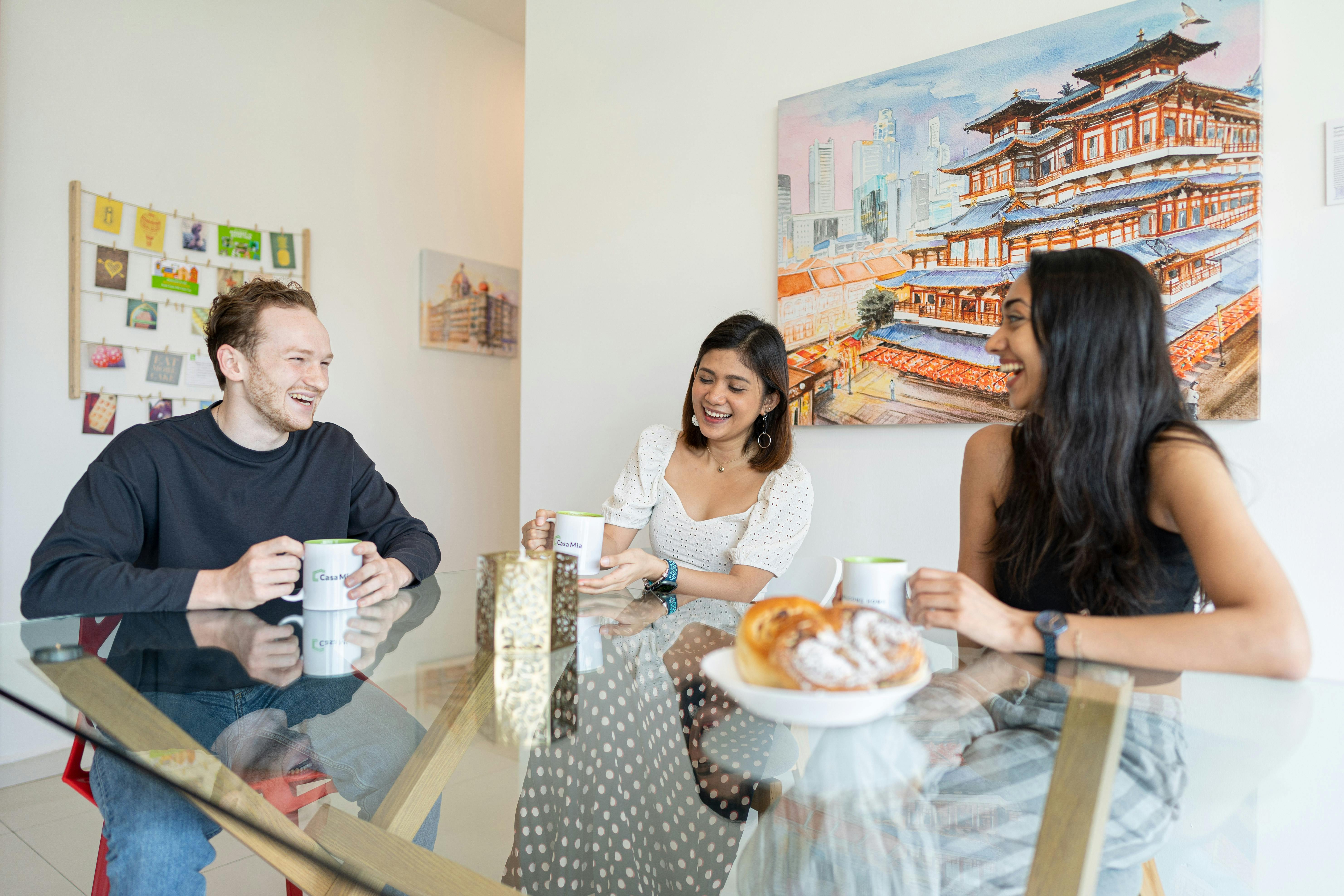 What Does "Fully-Furnished" and "Semi-Furnished" Mean in Singapore?
This part seems straightforward, but there are a few differences with these definitions in Singapore. 
Fully-furnished apartments in Singapore would include all the basic white goods such as fridges, aircons or washing machines to beds, sofas, TV set and dining furniture. However, let's take the UK as an example. There the term "fully-furnished" may include other aspects such as a decked out kitchen with all sorts of appliances and utensils or a bedroom with bedding and towels included. This is not to be expected in Singapore. 
On the other hand, "semi-furnished" or "partially furnished" would mean only the basic white goods with no other furniture such as sofas or beds included. The spectrum of the term "semi-furnished" is very large in Singapore. Therefore, it would be advisable for you to discuss with your agent what is included and what isn't. Once you book yourself a viewing, further aspects can be discussed with the agent or landlord, including the inventory checklist. 
Other Useful Things to Know about Renting in Singapore
Security Deposit
In Singapore, the security deposit is paid directly to the landlord (who will cash it and pay zero interest--no escrow account, no insurance, ...) Ask about it, the norm is to have a deposit of one month. Some landlords will want one month per year--as if the amount of damage that you can do to their property increases with the time you stay there :-) Make sure you know upfront what they want you to pay.
Agents/Realtors
If you are looking to rent, most likely you will deal with an agent of the landlord. They look after the landlord's interest--not yours, in case you had any doubts. You can retain your own agent too, and if you are renting for two years, you should do this, as most likely your landlord will pay for your agent's commission (check this, as it's the common practice, but not the law). Not sure where to go to find an agent? Start here: Propseller
Stamp Duty
If you are renting (as opposed to booking an hotel or service apartment), the agreement is subject to a Stamp Duty and you as the tenant are the one responsible to pay it. This applies for whole units as well as for rooms (also from coliving companies). For rent, the stamp duty is 0.4% of the total contract value. If you have an agent or a coliving company, they can help you to pay this, otherwise, you can go to the IRAS E-Stamping portal and do this yourself online. Make sure you do this, or good luck in case of any dispute with your landlord.
How to Deal with Landlords
We all know that dealing with landlords can be tricky in any country. Just a word of caution from our side, make sure to be prepared for tricky situations with your landlords (I too have my own personal experience with this in Singapore). During the handover (the day that you take the keys from the landlord), go over the inventory list, check that all items are there and working and note what is missing or faulty, and take plenty of pictures to document the status of the home when you receive it. Even small details will be important at the end of the lease, so err on the side of taking more photos rather than fewer. Save these pictures in an online drive or cloud folder which you will have in 1-2 years. This mitigates  any risk that your landlord can dispute this with you and charge you extra  or deduct heavily from your deposit when you hand back your rental property. 
We don't want you to have to contribute to these Facebook horror story posts...
More about Renting in Singapore
Renting in Singapore can be an overwhelming experience, we hope this article gives some clarity. If you are looking for more advice on living in Singapore, here are two more resources for you: