Local food
Lau Pa Sat (or Telok Ayer Market)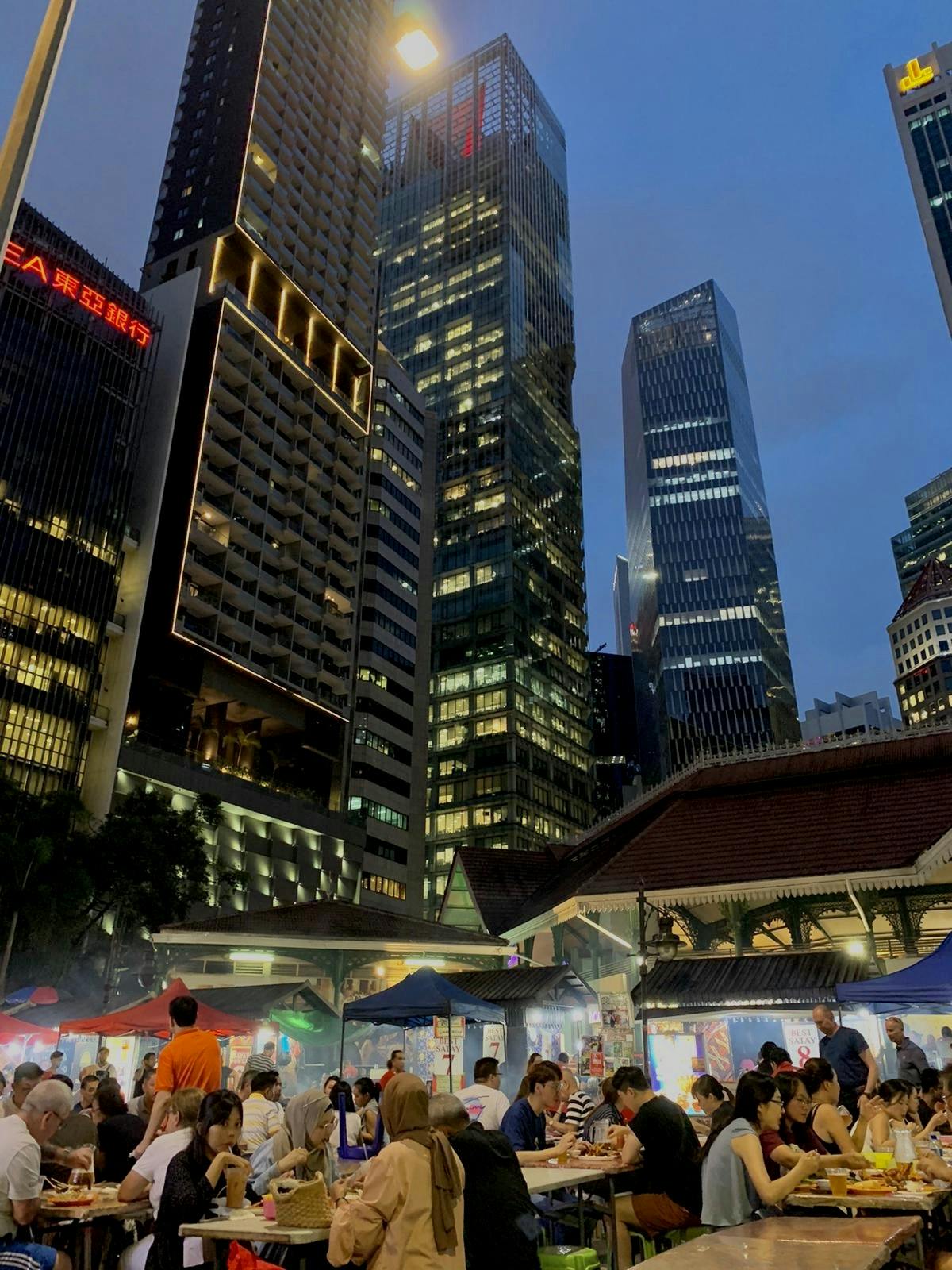 The old colonial style building that houses this famous food center is situated right in the middle of some of the tallest skyscrapers of Singapore (one of which hosts Casa Mia Robinson Suites). It offers hawker-style food across a wide  variety of cuisines. However, Lau Pa Sat is probably the most well-known for their satay which is served to you on little chairs and tables right on Boon Tat Street. The street closes down  every evening around 6pm for the satay vendors to start grilling their satay. You can enjoy your food whilst submerged in Singapore's CBD concrete jungle.(Personal favourite satay stall: #8)
Address: 18 Raffles Quay, Singapore 048582
Opening hours: 7am - 2am (depending on the stalls)
https://laupasat.sg
Quick take-away
Da Paolo Gastronomia Raffles Place
If you're in need of  a quick breakfast, lunch (brunch basically) or just  a takeout, visit Da Paolo in Raffles Place. The chain has various outlets across Singapore and serves authentic Italian food such as grilled parma ham and rocket paninis or fresh aglio olio pasta. 
(If you are too lazy to cook one night, check out their fresh pasta sauces or pre- packaged lasagnas, their boutique shop offers these!) 
Address: Six Battery Rd, #01-K1 Bank of China Building, Singapore 049909
Opening hours: Mon-Fri 7:30am - 6:30pm
https://www.dapaolo.com.sg/gastronomia 
Restaurants/Brunch spots
Commonman Stan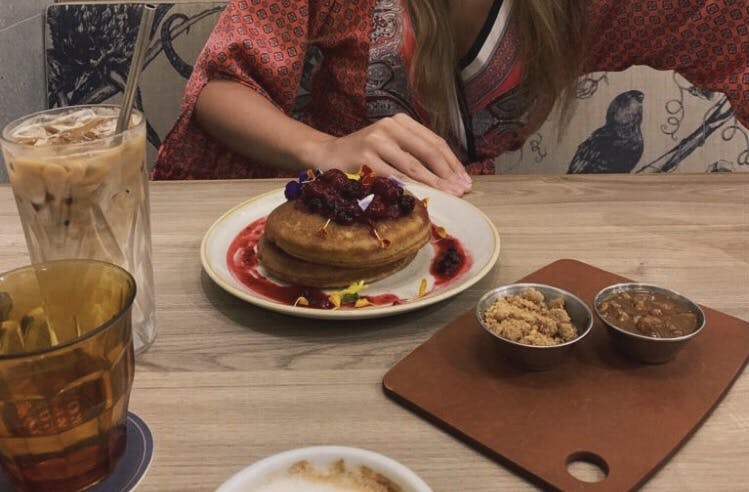 A personal favourite of mine. If you are a brunch lover, this as well as Tiong Bahru Bakery is a must-visit-cafe! Great interior, tasty coffee and even tastier food. If you are missing your classic avo toast with poached eggs, a full English fry-up or a granola and greek yoghurt brekkie, this is the place for you. 
(Breakfast is served from 7.30am to 5.30pm, so hop on over if you are craving breakfast for dinner)
Address: Stanley St, 11-12, Singapore 068730
Opening hours: Mon-Sun 7:30am - 5:30pm
https://commonmancoffeeroasters.com
Sarnies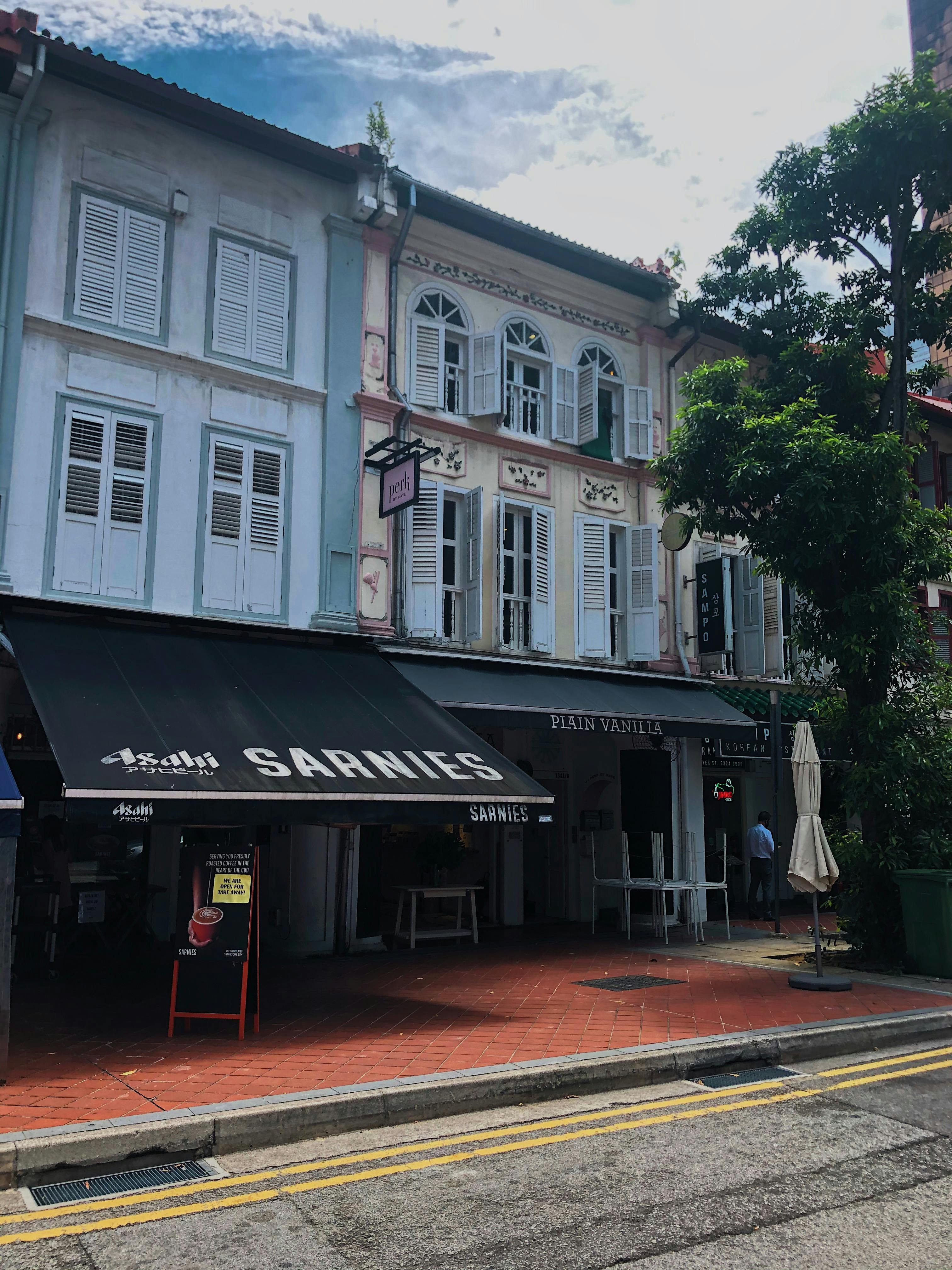 We're so spoiled for choice with two of our favourite cafes right next to each other! (More on Plain Vanilla in our Tiong Bahru guide.) Whether you want to grab a quick post-workout snack, have  lunch with a colleague or merely want to enjoy a weekend brunch, look no further. Sarnies offers exceptional rustic sandwiches (as the name may suggest). If you're more of a health freak, they also serve great salads! 
Address: Telok Ayer St, 136, Singapore 068601
Opening hours: Mon-Fri 7:30am - 8pm; Sat & Sun: 8:30am - 3:30pm
https://sarnies.com
Dumpling Darlings 
Dumpling Darlings is a relatively young, hipster cafe located along Amoy Street in Tanjong Pagar, founded by the same creators behind the popular Lola's Cafe. This is the go-to place for Asian fusion dumplings, along with springy ramen noodles for a comforting midday meal. 
Address: 44 Amoy St, Singapore 069870
Opening hours: Monday closed; Tue-Sun: 11:30am - 2:30pm & 5:30 - 10:30pm
dumplingdarlings.com.sg
No Menu
Claimed to have the best burrata in town, No Menu is a cozy and authentic family-run Italian restaurant in a shophouse located in Telok Ayer. As the name may suggest, there are various antipasti and secondi piatti that aren't on the menu but are available courtesy of the chef's personal recommendations. 
Address: 23 Boon Tat St, Singapore 069621
Opening hours: Mon-Sat 11:30am - 2pm & 6 - 9pm; Sunday closed
http://www.osvaldo.sg
Bars
Lantern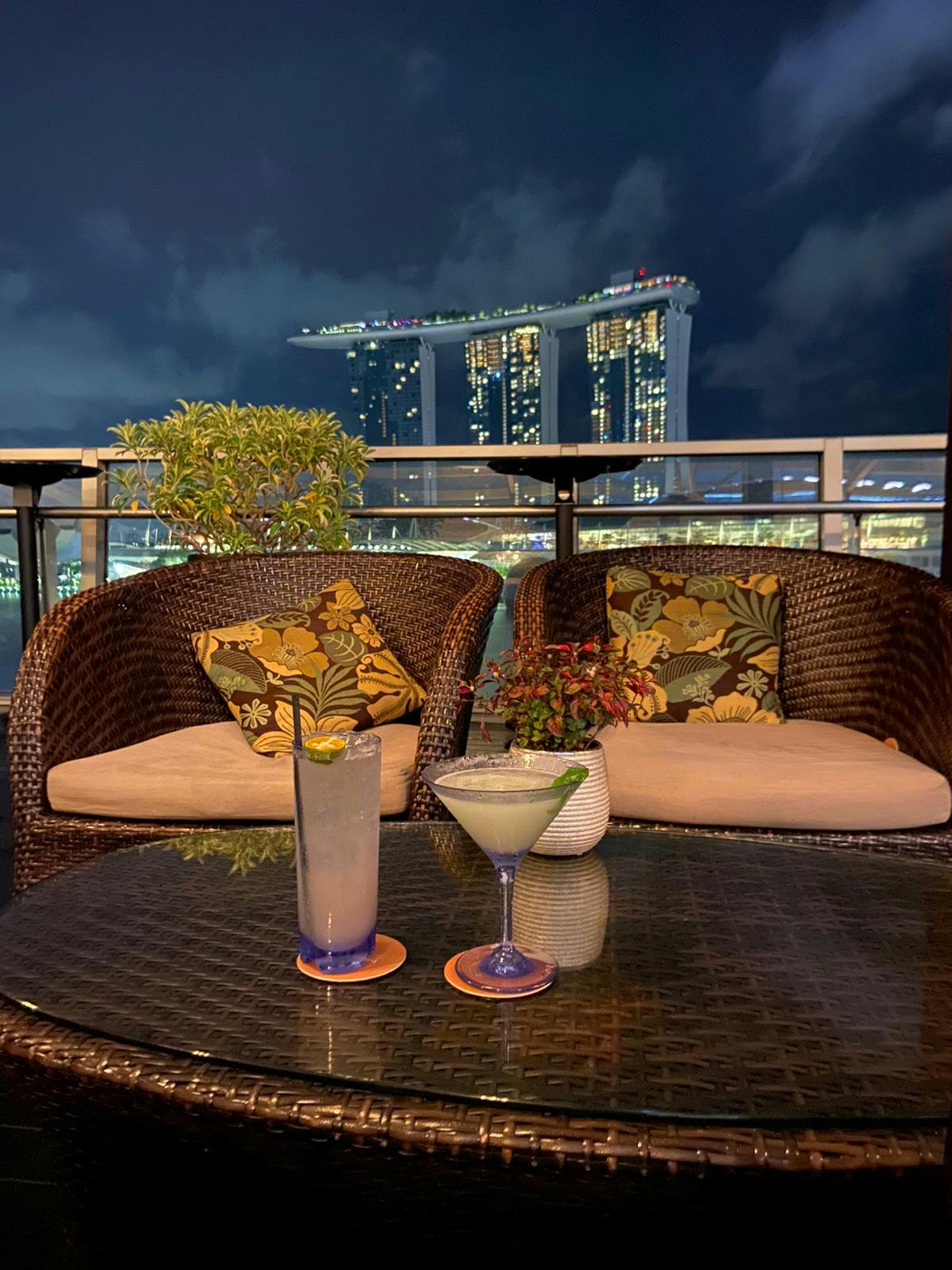 Lantern is a stylish bar located in the 5-star hotel Fullerton Bay. The venue boasts beautiful views over Marina Bay and has a variety of drinks and nibbles to choose from. For those choosing the teetotal lifestyle, they also have tasty non-alcoholic gins and wines, how cool! Check out the Basil Smash and Pink Jasmine below
Address: 80 Collyer Quay, Singapore 049326
Opening hours: Mon-Sun 5 - 10:30pm
https://www.fullertonhotels.com
Kinki
Overlooking Marina Bay, Kinki serves not only amazing views but also amazing food.  Urban Japanese cuisine; dishing up the classics such as tempura, tartare and sushi rolls but with a twist. Tuna tartare tortilla, Cowabunga rolls (with wagyu beef) or grilled squid with an asian inspired Chimichurri sauce just to name a few! (The food pairs well with a cocktail or two from their funky rooftop bar, happy hour from 5pm-8pm ;) )
Address: #02-02 Collyer Quay, Customs House
Opening hours: Mon-Friday: 12 - 3pm & 6 - 10:30pm; Sunday: 12 - 3pm 
https://www.kinki.com.sg/
Explore more
The CBD is a great neighbourhood in Singapore, but there is much more to see in the Little Red Dot. Check out Moving in: the Singapore Expat Guide for more tips about all the great neighbourhoods that the city offers.