Selecting the right neighbourhood
The first step to finding your perfect home in Singapore is deciding on the area you want to live in. At Casa Mia, we have homes in various different locations across Singapore including River Valley, Orchard, Newton/Novena as well as a few homes in the East and West! If you aren't sure about which area suits you, read our blog here! Once you have decided on which location is best for you, you can use the interactive map on the right to find the homes in this area.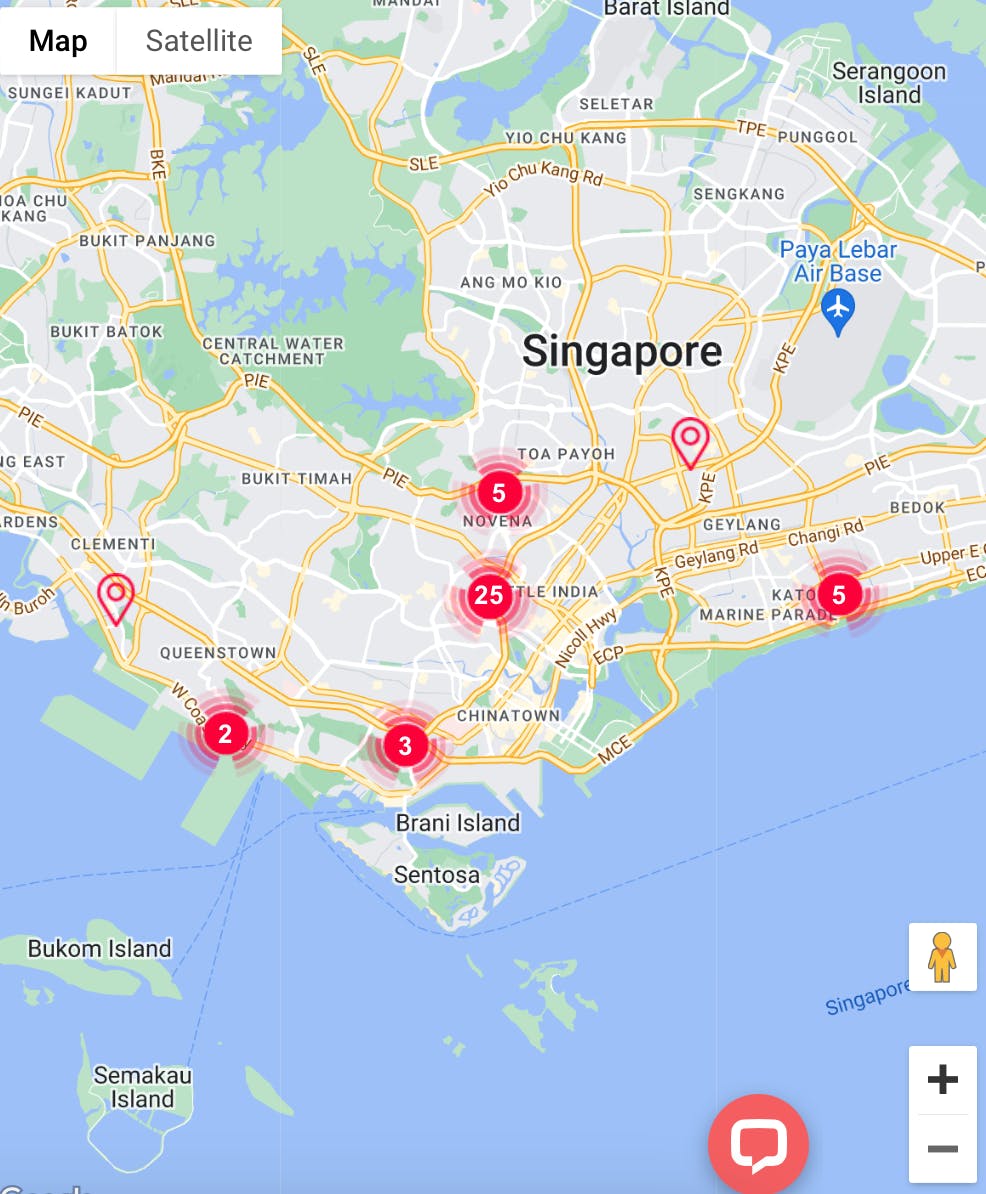 Using the search function
Using the search bar at the top of the page is for your ease! Instead of browsing all homes, why not put in all relevant details and find all homes that fit your requirements? Please note, if you select 'Start of Stay' as immediately we will be expecting an immediate move-in and (sadly) will not be able to hold it for you if you only intend to move in a few weeks later.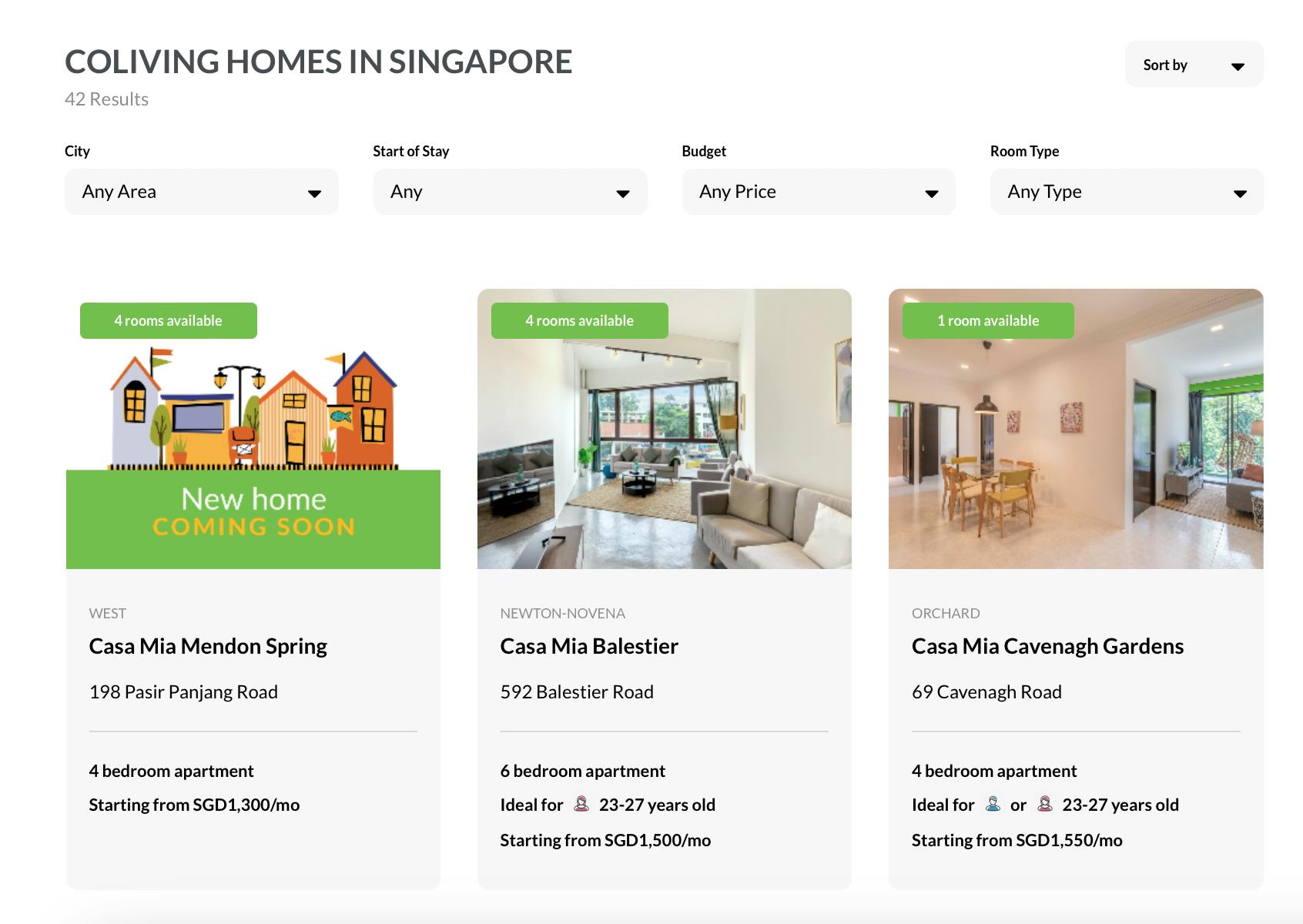 Rooms and their availability 
Once you have found some homes that you like, have a look at the various types of rooms. Most of our homes have:
Master Bedrooms
These are our biggest rooms. A queen size bed, sofa chair, access to a private en-suite bathroom, and wardrobe make this type of bedroom the largest and most convenient. Have a look for the 'ideal for couples' tag to see whether the room is suited for couples. If you don't see this tag the room is for single occupancy only.  
Premium Bedrooms
Our premium bedrooms are a little larger than our standard bedrooms. They have an extra sofa chair for your comfort. The room comes with a queen size bed, desk, and desk chair as well as a wardrobe for your belongings.
Standard Bedrooms
As the name suggests, the standard bedroom comes with all the necessities you may need such as a queen-size bed, desk, and desk chair as well as a wardrobe for your belongings. Unlike the premium bedroom, there is no extra sofa chair.
Piccola Bedrooms
Our Piccola bedrooms are compact rooms, perfect for those on a budget. Piccola bedrooms have a regular size bed, desk and desk chair, and a wardrobe.
Availability is indicated on the top left corner of the room images. We also have indicators to let you know whether the room will be available in the next couple of weeks. If a room is available immediately make sure to reach out as soon as you can. They tend to get snatched up pretty quickly.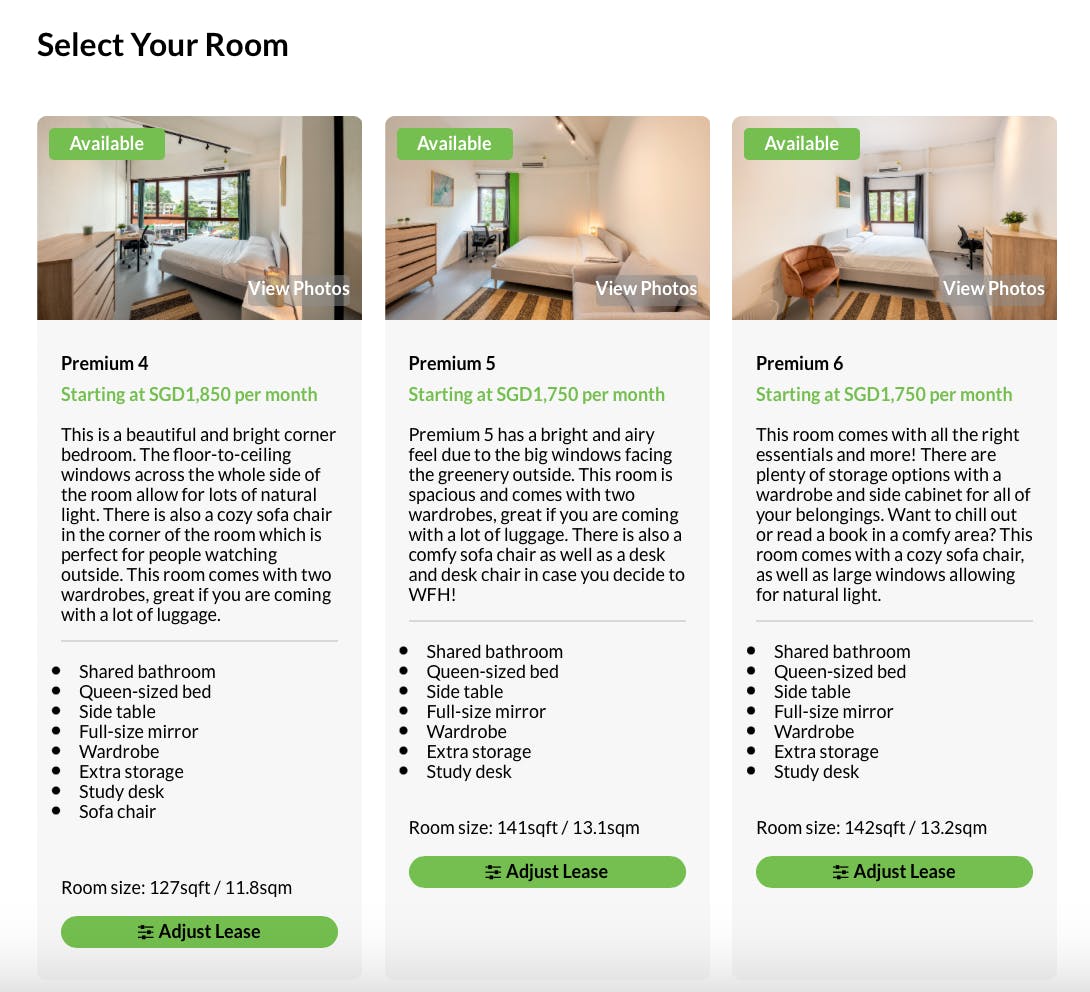 If you are looking for a home with multiple available rooms we suggest waiting for new home launches. New home launches are indicated as 'coming soon' on our website. Images of the home usually follow a week after this announcement. You can book rooms even if we haven't published images so if you are looking to book with a friend we recommend reaching out asap!
Virtual tours
A perfect way to get acquainted with the home is by checking out the virtual tour! This is an amazing tool for those of you that aren't able to view the property in person. Even if you are able to view the home in person we always suggest looking at the virtual tour first. It is a great way for you to get a grasp of the place before coming in for in-person viewing. It allows you to see how big the room is (no wide-angle cameras to make the room look bigger than it actually is), what the general layout of the home is as well as the floor plan and measurements of the rooms. Check out a virtual tour here!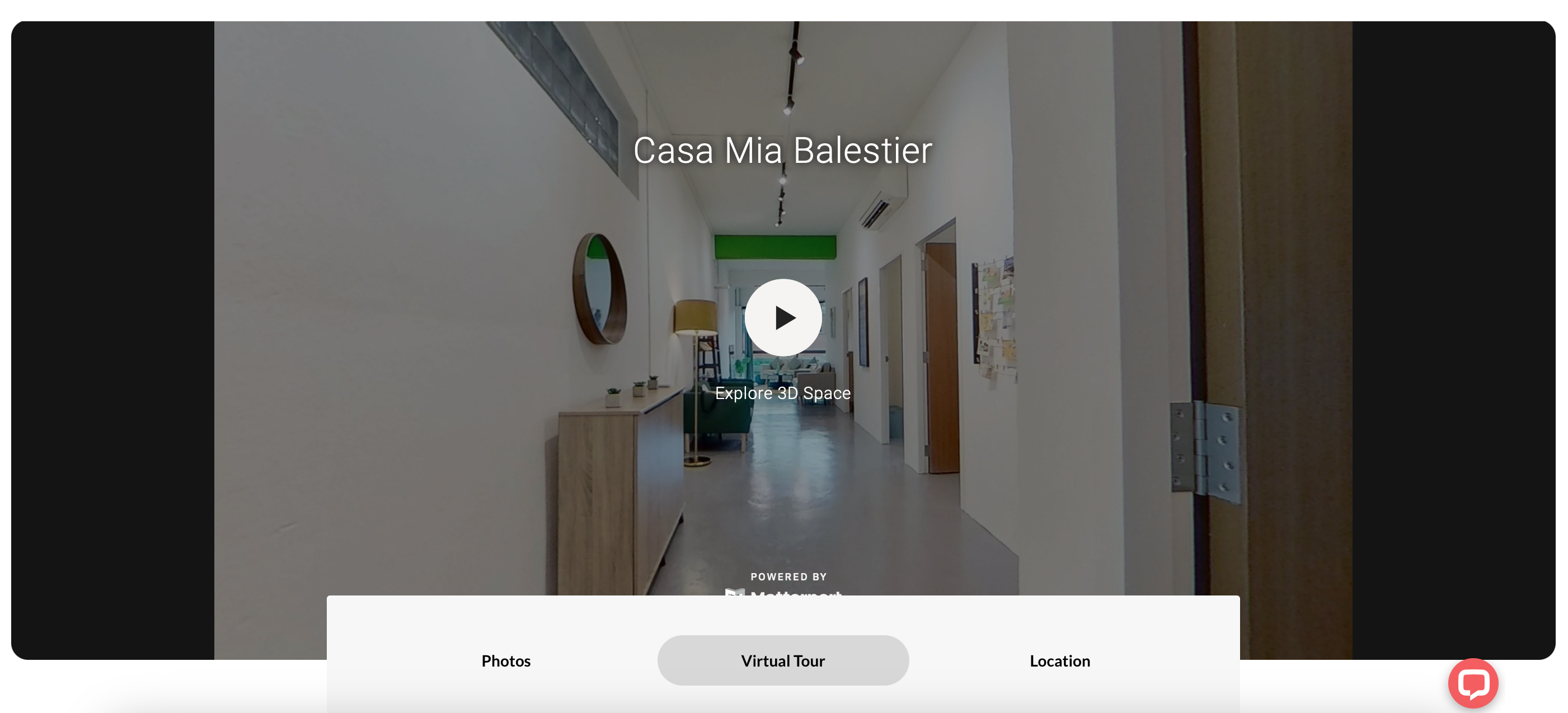 Adjust the price
Using the slider tool on the right hand side of the website you can check the various prices of the rooms. The longer you stay the cheaper the rent will be! This tool can also be found in the contact forms and will help you decide your initial length of stay!
Share your interest - fill out a form!
If everything looks good, click on 'adjust lease' for the room you are interested in. A pop-up window will appear where you can enter all relevant details such as your start of the stay and length of stay. (If you need more information about your stay at Casa Mia Coliving, check out our FAQ page, here).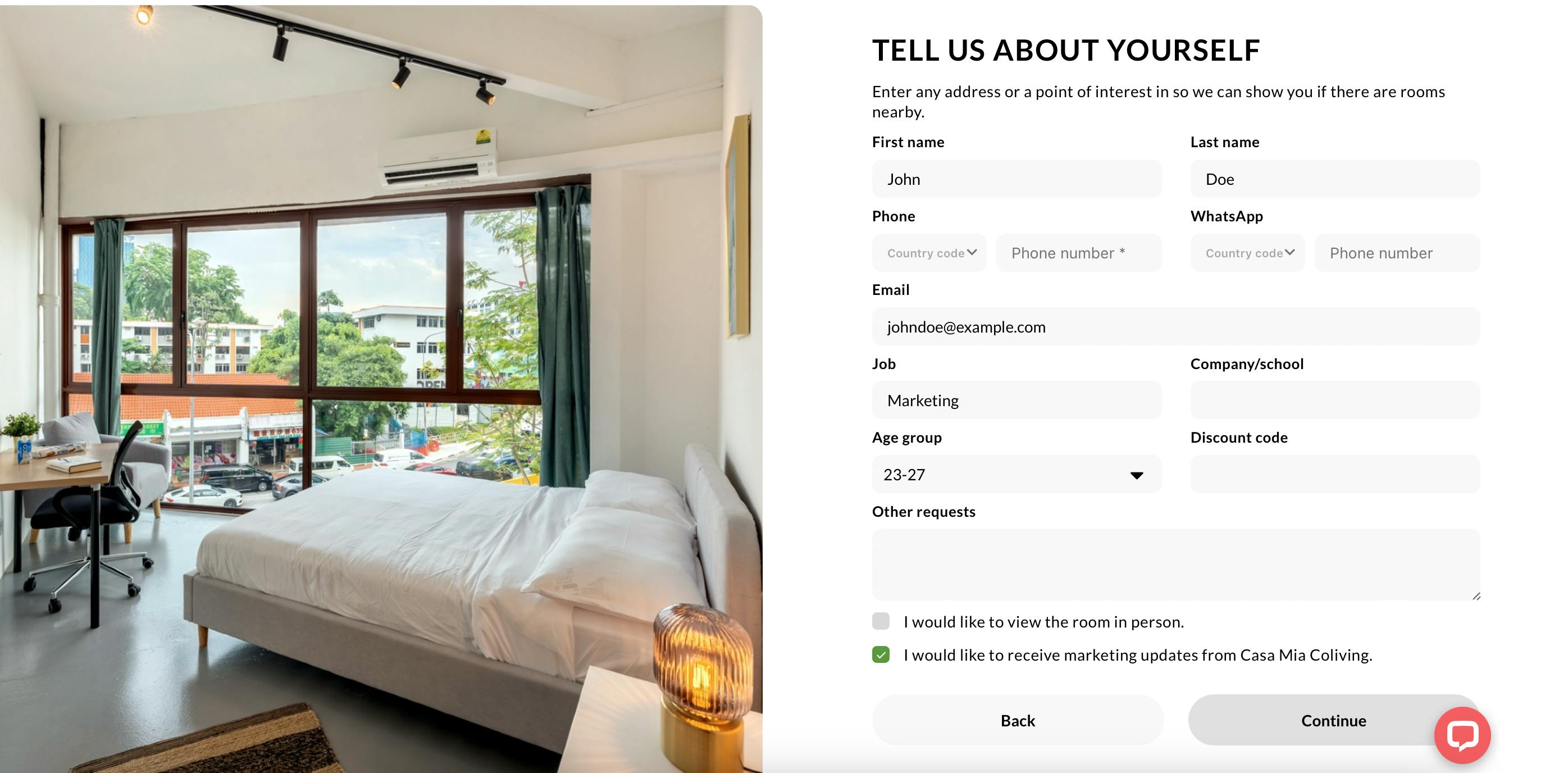 Like on the main page, the slider at the bottom of the form can be used to see what the different rental prices are. These prices change depending on your length of stay. The longer you stay with us the cheaper the rent, whilst a shorter stay will be more expensive. 
Once you have entered these details continue to fill out the second page of the form. This page will ask for your personal details, such as phone number and email address as well as age, gender, profession, and nationality. These basic demographics help us understand whether you are a good fit for the home. We strive to balance the housemates' profiles in each home in terms of gender, age group, nationality, and profession. This not only helps to foster cultural exchange, but it also ensures our members have a comfortable living experience staying in our homes with a more balanced gender ratio in each home, and being able to mingle with others who are in a similar age range to them. We try our best to offer you options based on your requirements while also maintaining this balance in our homes. Once the form is completed and submitted our sales team will get back to you via email. Be sure to check your inbox regularly! (Response time varies depending on demand and can range between 24 to 48 hours.)
Good fit for the community?
Once our sales team has received your room inquiry we will send you our community fit questionnaire. This questionnaire is used to gauge certain personality traits that have been linked with positive coliving experiences. We will also use the results to confidently tell you which home you would be best suited for. You can find out more about the questionnaire here. As soon as your answers have been submitted and our team has analyzed them we will get back to you.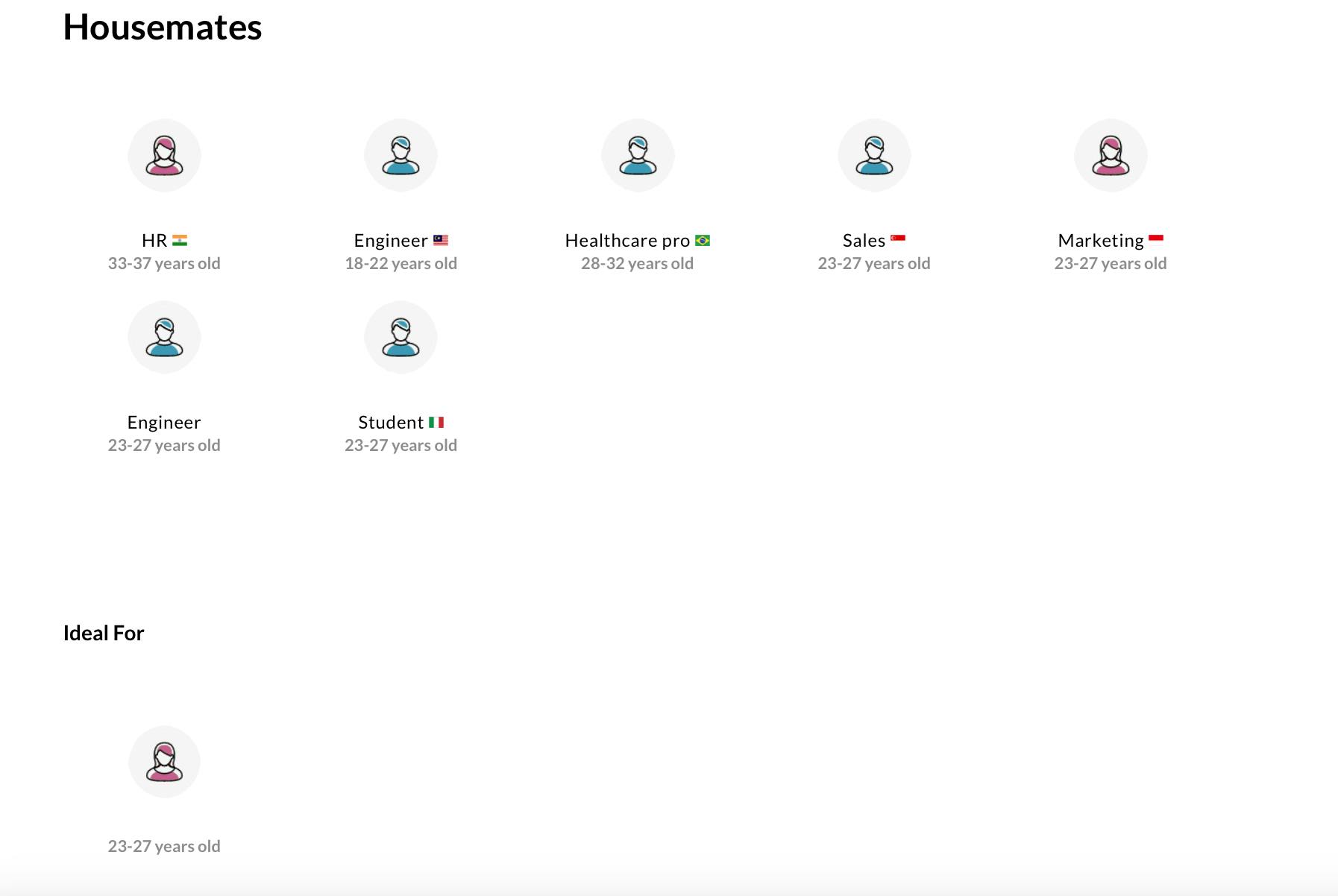 Receive the contract & sign - the room is nearly yours!
When ready, our Sales team will send you your contract as well as any other necessary information for you to make your final decision. It's all done electronically from the comfort of your couch or work desk! Please note that our rooms can be snatched up quickly, therefore we recommend signing your contract within 24hrs to avoid disappointment.
The annoying (but necessary) stuff - deposit, stamp duty, etc.
The contract has been signed but before you can call the room yours we will require you to pay the first bill (right after the contract is signed), which comprises the first month's rent, a one-month security deposit, and a one-time $200 mandatory membership fee. The first month's rent will be prorated if your lease does not start on the first of the month.
Welcome to Casa Mia Coliving!
After everything is settled you are ready to move in! Our community management team will reach out to organize your move-in. We do move-ins during the week from 9 am - 5 pm. If you are keen to schedule a move-in over the weekend (or anytime outside of our regular business hours) you can do so but please note we will charge $100. We will send you, as well as your new housemates, an email introducing you to the home. This is the perfect opportunity for you to reach out and say 'hi'.
If you are still unsure about the process, check out the walk through here:
If you have any questions please don't hesitate to reach out to our sales team once they've gotten back to you! We're looking forward to welcoming you to our community :)