We listened to our members and acted on it
Our last survey conducted in February showed that our cleaning services needed to be improved. It was one of the areas where our members were most dissatisfied, so improving this has been a priority within the Casa Mia Coliving team. The improvements were drastic, with this category scoring the best (highest satisfaction) amongst our members in this semiannual survey. Over 85% of respondents are satisfied or very satisfied with our current cleaning services. Comments such as "the current cleaning service is much better than the previous one" or "the cleaning is good, I like the cleaners!" are a strong indication of satisfaction amongst our members. We also appreciate suggestions from members and take these onboard. One example was ensuring the availability of all the cleaners' cleaning products so housemates can use them themselves as and when they want.
Lockdown fatigue was real; luckily our fun events helped ease the pain  
Lockdown fatigue has been apparent all over the world, so we are not surprised that our members were eagerly gearing up for in-person events! Over the past months, we conducted all of our events virtually, from cocktail making, beer tasting, and soap making to classy wine tasting. Having in-person events allowed our members to get to know each other in a more fun and interactive way. Comments such as "..as COVID eases, we hope to have more in-person events" were well noted. Our members rated our virtual events extremely well and said "the mix of activities is quite nice despite COVID and Casa Mia has done really well to accommodate the situation."
Great value for money
Another highly ranked indicator was the value for money. We mention in many of our blog posts about coliving that Casa Mia Coliving prides itself on providing great value for money. The proof is in the pudding. Our survey results indicate that over 70% of our respondents are satisfied or very satisfied with the value for money Casa Mia Coliving provides. 
Members' own suggestions for future events 
We were interested in specific suggestions for in-person events in the coming months so we asked our members what interested them. 65% of respondents were interested in attending group sporting events, such as hikes or cycling events around Singapore. 65% of respondents expressed interest in more F&B events, which we will return to now that restrictions on dining out have been lifted (our first event is coming up in a few days at a new rooftop in Tiong Bahru!). Other suggestions made were group Zumba classes or special holiday parties (keep your eyes peeled, maybe we will have a NYE party!). 
General feedback 
Other general feedback showed that a large majority of our members are happy with Casa Mia Coliving. Here are some comments we received:
"So far my experience has been great, everyone has been super attentive."
"Feel the set up is very well organised and they make an effort to improve things."
"Properties at very good locations and very well maintained and furnished apartments."
"I think expats like myself will enjoy the ease of coliving and enjoy the perks and "inclusions that the team offers."
"Fun housemate, strategic location, creative monthly events to bring people together."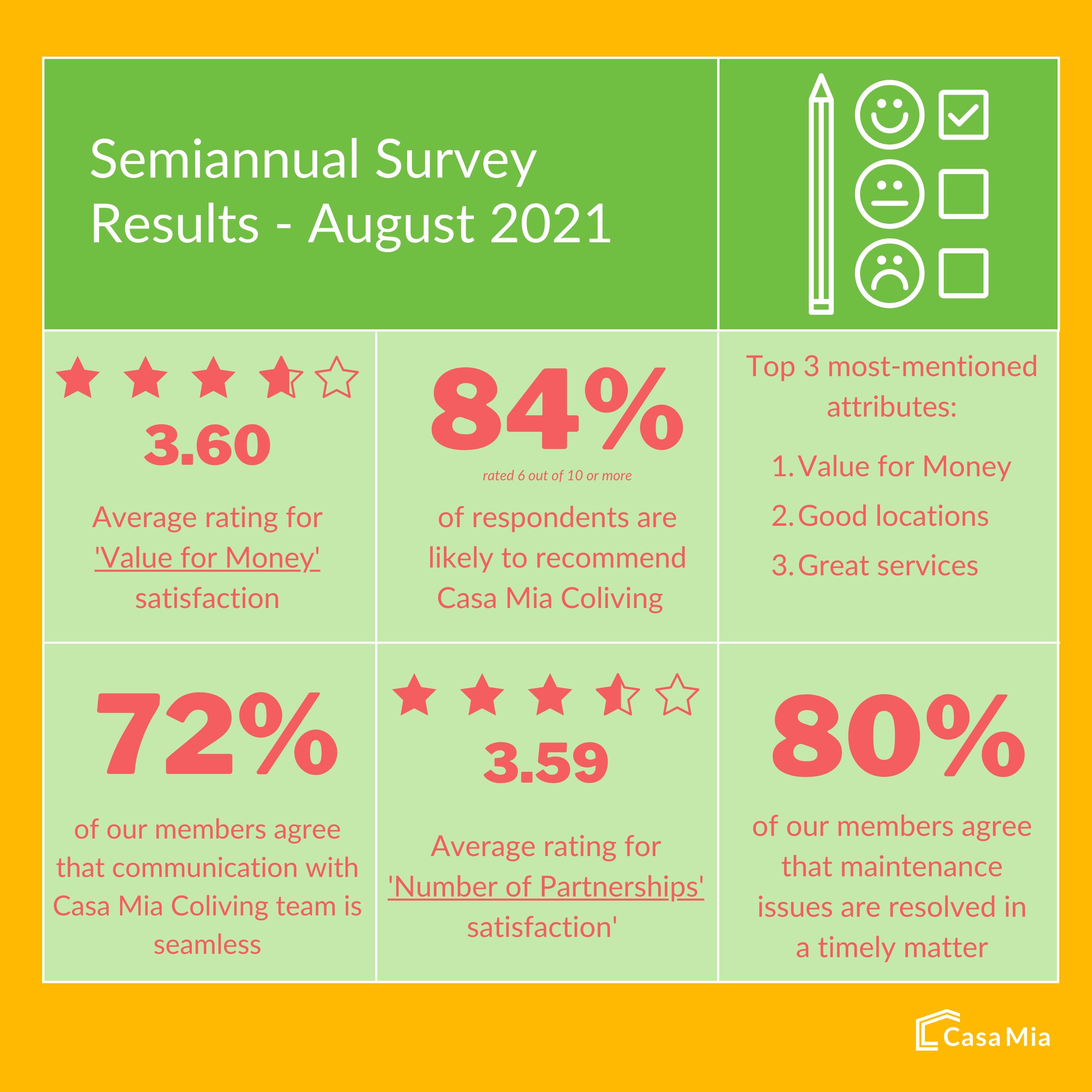 Are you interested in more information on Casa Mia Coliving? Check out our latest blog on Why Coliving Is More Than Just Rooms For Rent
Check out our Instagram and Facebook pages to stay connected and updated on our latest (and upcoming) in-person events.
Check out the latest 2022 edition of this here: How Happy Are Our Coliving Members (Semi-Annual Survey - August 2022)