Moving Internationally
While moving to a new city is an amazing experience which fulfils your need for discovery and wanderlust, gives you a chance to reinvent yourself and start new, it can also be overwhelming. Researching the neighbourhoods, the cost of living and types of accommodations in each location, reaching out to people in your network to get advice… while doing all these things, the least interesting to do on your list is probably dealing with real estate agents, followed by a bunch of house chores (like selecting the right internet service providers, connecting the utilities, and visiting furniture stores…) These are the most annoying elements of a global relocation. That's where coliving comes in. 
What is Coliving?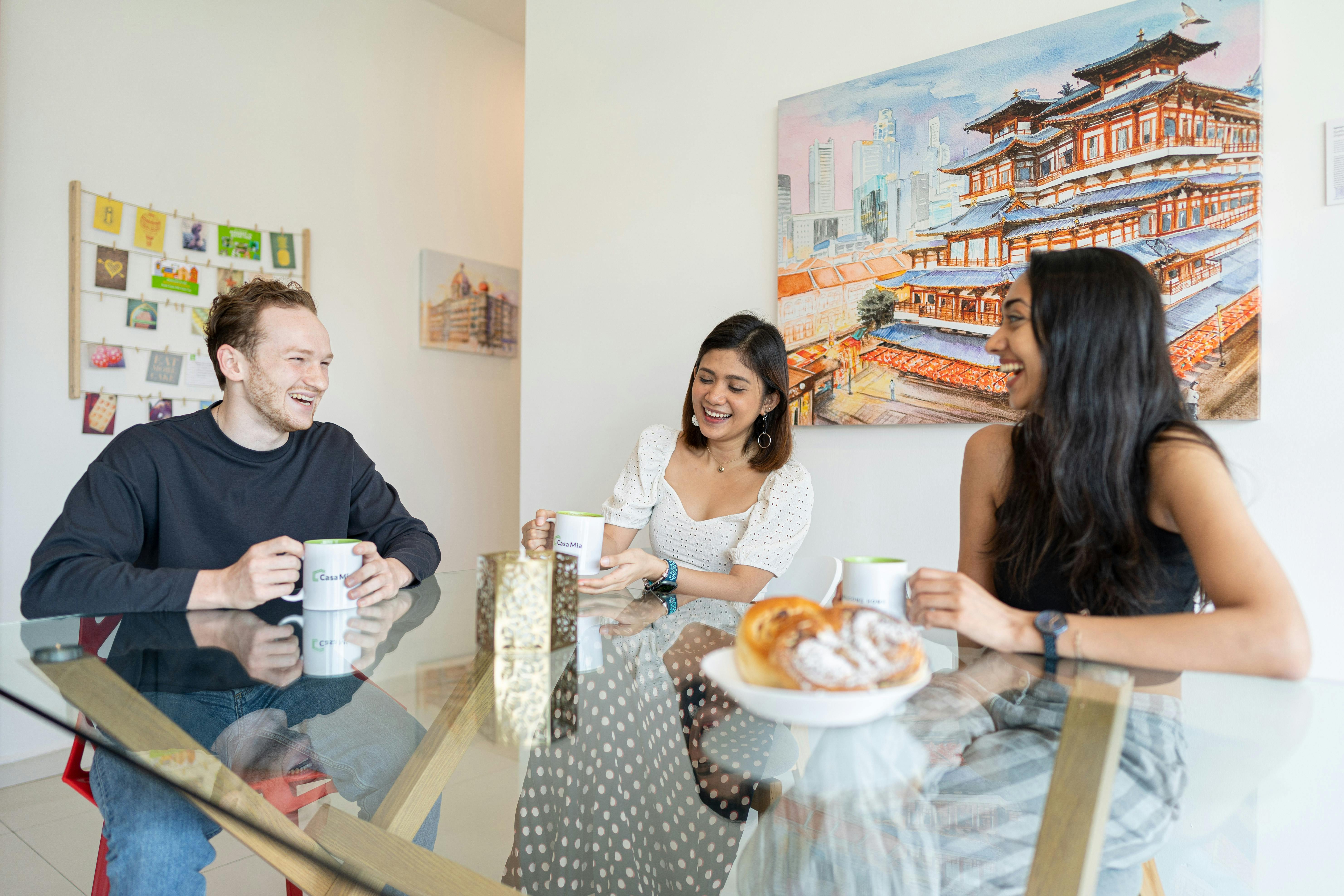 Coliving in Singapore provides affordable accommodation, in fully furnished and serviced apartments, with everything that one needs to just move in and start enjoying their new homes. Coliving companies here make it easy to find new accommodation in interesting locations, in about half the time of the regular house-hunting process. The entire process with coliving companies can be completed online, while the traditional house-hunting process is mostly offline. Finally, coliving comes with a community of like-minded peers.
Do you want to learn more about coliving in Singapore? Here is Casa Mia's complete guide to coliving
Where Are the Best Coliving Locations in Singapore?
Well, that depends a lot on what you are looking for. In general, my answer is central Singapore. When you are new to the city, you do not exactly know where your area of interest is going to be. Going with a central location is a sound bet. Three or six months later you can move to your favorite neighborhood, once you have made up your mind on which is the neighbourhood for you.
River Valley and Robertson Quay
While there are a lot of interesting locations in Singapore, for someone who just landed here, the convenience of River Valley and Robertson Quay is unbeatable (I spent the first five years in Singapore there myself…)
It's just a five to ten minute ride to the central business district (CBD), so going to work is never a long commute. 
It's packed with cafes, bars, restaurants, so you won't have time to be bored. 
It has the Singapore River right there, for a walk, a long run to the Marina Bay, or a longer bike ride all the way to the National Stadium and beyond.
All main coliving companies in Singapore will have some presence here. Do you want to learn more about what this neighbourhood offers? Check out our blog post Your room in a coliving apartment in Robertson Quay and River Valley)
Orchard
After five years in Robertson Quay, I moved to Orchard. Not the busy shopping road itself, but a quiet road off the end of Orchard. 
It gives you amazing access to everything, even more than Robertson Quay (well, unless you are working in Tanjong Pagar, in which case, jump ahead to the next section).
In between all the glitzy shopping malls, you can still find stores and walking routes with a lot of character and charm (start off from Emerald Hill or the back of Tanglin).
And the Botanic Gardens are amazing! No wonder it's the first UNESCO World Heritage Site in Singapore!
A few coliving companies have options in Orchard (and then if you move the neighbouring Newton, you will find plenty of coliving options). We have dedicated a blog post to rooms in coliving apartments  in Orchard, which you can check out here.
Tiong Bahru
Tiong Bahru is extremely close to River Valley and other central locations such as Chinatown and Tanjong Pagar. 
The area is a lot more quiet and instead of tall high-rise buildings, Tiong Bahru offers heritage shophouses and walkups. 
Tiong Bahru prides itself on having unique retro charm which is embodied in the art deco architecture as well as the many cafés around. 
If you can't make up your mind about living in Tiong Bahru, read some more about it in our blog post 'Your room in a coliving apartment in Tiong Bahru'!
Newton and Novena 
Newton and Novena are two areas that are a little less busy and bustling compared to the ones mentioned above. However, they are both conveniently located next to Orchard which means you are never far from the action but can also enjoy peace and serenity. 
There are a number of good public transport options here; two MRT stops in Newton and one in Novena and many bus stops around
Of course Orchard has all the great (and expensive) shopping malls, however Novena has 5 in just one area which means you're bound to find whatever you're looking for!
Newton is home to the famous 'Newton Food Centre', which you may know from 'Crazy Rich Asians'. 
You can expect a lower rental tag here compared to the extremely central areas, such as the CBD or Tanjong Pagar.
Read more about coliving spaces in Newton and Novena in our blog post 'Your Room In A Coliving Apartment in Newton-Novena'!
CBD and Tanjong Pagar
The central business district (CBD) and Tanjong Pagar are both extremely convenient areas to live in, especially if you work there.
Most of all, for their central and convenient location. There are a good number of MRT stops around and you are always a short Grab ride away from anything. And most likely, will only be a walk away from your workplace.
There are so many options for cafes, bars, and restaurant, especially in, Duxton, Chinatown or Telok Ayer (check this out for more info: Our favorite places in Singapore's CBD). 
As far as coliving goes, this area is a bit more expensive than the rest of Singapore. A few companies offer options in a few residential codos, and also Hmlet has a whole coliving building here. 
Other Neighbourhoods
Do you want to learn more about other interesting neighbourhoods for expats in Singapore? Check this out: Moving in Singapore: The expat guide (where you can also read about the CBD, Newton-Novena, and Katong ...all interesting options, depending on your preferences).
Is Coliving Right for You?
If you are moving to Singapore for work by yourself, the answer is "absolutely yes". No doubt… the only question is "which coliving company?" The convenience is simply unparalleled. 
Need more convincing? Check this out from one of our first members, Our Members: Christina, from the UK to Newtown, Singapore or have a read of this article we posted "Is Coliving For Me"!
Some More Helpful Resources About Coliving:
Don't take my word for it. Check out these two recent articles about coliving in Singapore:
Ready to Learn More About Casa Mia Coliving?
Singapore offers a few options when it comes to coliving. We have built Casa Mia Coliving for young professionals in their 20s (the accommodation, locations, service, and most of all the community). Would you like to learn more about Casa Mia Coliving? Check this out: How Casa Mia Coliving Makes It Easy for Young Professionals to Move to a New City