How do I start?
The first thing you should ask yourself is, "how long do I want to stay in Singapore for?" and "what type of accommodation do I want to move into?" The first question may seem irrelevant but the length of stay will be a deciding factor when it comes to the accommodation you are legally allowed to stay in. 
Short-term vs Long-term accommodation
To make it simple; any rental period under three months is considered short-term and any rental period over three months is considered long-term. Short-term accommodation will only be serviced apartments or hotel rooms, whereas long-term accommodation will include condos, landed properties or HDB apartments. Find out more about rental length and what serviced apartments are in our Guide to Renting: Singapore Edition!
Fully-furnished vs Semi-furnished
Another aspect you should bear in mind is the furnishing types in Singapore. If you are moving over with furniture or wanting to furnish your own apartment, you would be looking for semi-furnished apartments as these will only include the white goods (these are the large electrical appliances such as fridge and washing machine). Unless you want to purchase your own white goods, then you would select a completely unfurnished apartment. However, if you are looking for an apartment that comes with a bed, sofa and most of the basic furniture, you are looking for fully-furnished. We know this can differ from country to country, so have a read about it in our renting guide!
Where do I start looking?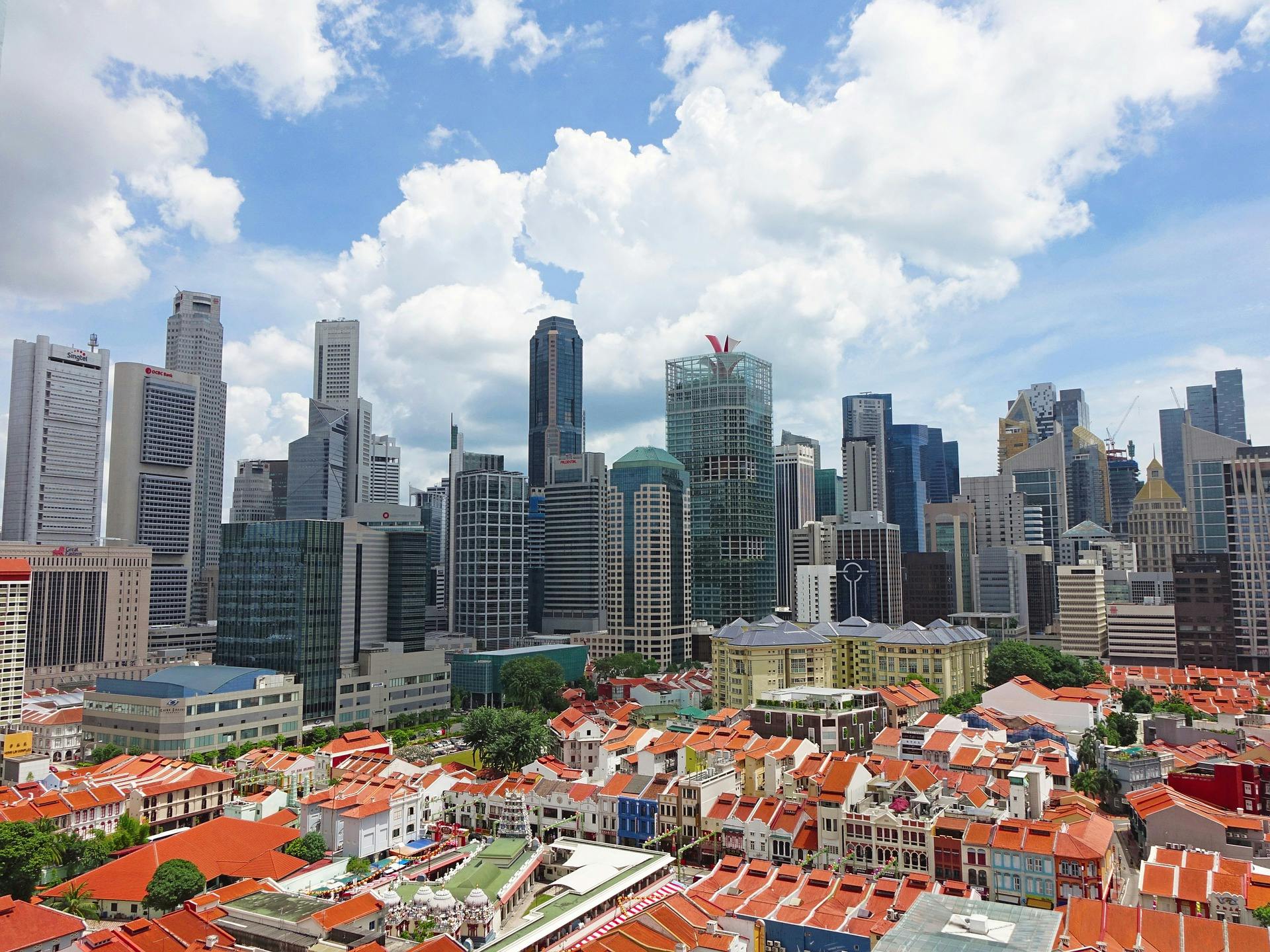 Property platforms 
Now that you have figured out the basics, you will want to start looking for your accommodation. There are a number of different websites that will help you with the selection process. We have listed our top five sites to in our Moving in: Singapore Expat Guide blog, check it out here 
Finding the perfect location
"Where in Singapore do I want to live?" Once you have selected your website of choice, the next important step is to figure out where you want to live. We know choosing the area to live in is extremely difficult if you have not been to each of them before, but we will try and make it easier for you. The most important deciding factor of all: price. The list below highlights the standard average rental price for a 1-bedroom (750sqft). 
Price Breakdown for a traditional 1-bedroom apartment by neighborhood
Tanjong Pagar - $4,000 / month 
Central Business District - $4,000 / month 
Tiong Bahru & Queenstown - $3,700 / month 
River Valley - $3,700 / month 
Orchard - $3,600 / month
Newton & Novena - $3,000 / month
Katong - $2,800 / month 
Apart from rental prices, we have also condensed some information on pros and cons of each location which you will find below:
Tanjong Pagar 
+ Extremely central with a number of authentic bars and restaurants
- High rental price tags
Central Business District
+ Arguably the closest you will live to work (if you are working in the CBD)
- High rental price tags
Tiong Bahru 
+ Trendy and up & coming area
- Not many condos here (so must like walk-up apartments)
River Valley
+ Central and close to many hotspots
- Your mode of transport will more likely be bus rather than MRT (new stations are being built that will be opened the second half of 2022)
Orchard
+ Extremely convenient
- High chance you will get stuck in traffic 
Newton & Novena
+ Gives off relaxed suburban feels but is still central
- Not many cool hangouts arounds
Katong
+ Close to East Coast Park with hip boutique cafes/restaurants
- Depending on office location, this area could come with a longer commute
Queenstown
+ Great location for those in tech or students at INSEAD/NUS/NTU
- Further away from popular expat areas
There is more to read about the various locations and their advantages and downsides in our blog post 'Moving in: Singapore Expat Guide', have a read here.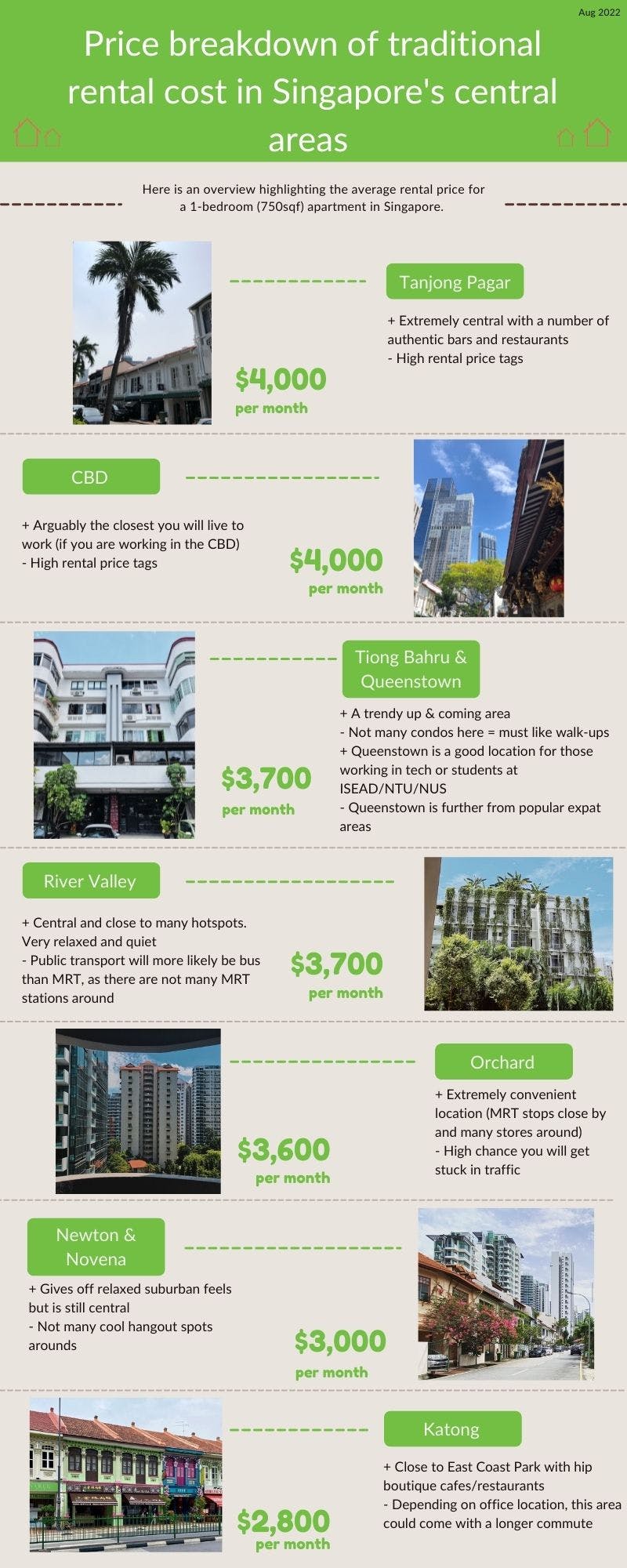 Our favourites around town
Finally, once you have reached the stage of selecting the area you would love to live in, research a bit further about the area. Knowing more about each individual location such as what cool bars they have around or what places to book for a tasty dinner can be very helpful in your decision making process. So we have made it our mission to create a 'Casa Mia favourite' guide to all our favourite restaurants, cafes and bars across Singapore. 
We have guides for these following locations:
The cost of living in Singapore
If you have told family, friends or colleagues about your plans on moving to Singapore, you may have heard comments like "Oh, I was told living in Singapore is expensive!" Generally, this is true (especially in the last few months), but there are many things you can do to reduce this cost. For example, buying fruit and vegetables in a supermarket, like you may be used to, is a lot more expensive compared to buying fruit and vegetables at a local stall. Instead of buying 1 mango for $4 at a supermarket you can easily buy 3 mangos for $3. Or, invest in a Sentosa Islander card if you know you will be a dedicated weekend beach-goer (at the moment they are free!) Read more about our recommendations and experiences here!
Coming to Singapore for University Exchange or Masters?
Pre-Covid there were many university exchange programs with Singapore Management University, National University of Singapore and Nanyang Technological University. The experience can be somewhat overwhelming, especially when it comes to finding a place, dealing with landlords, learning how to be money savvy etc. As an exchange student, finding the right accommodation that ticks multiple boxes (most important being price) is also a very important topic. For this reason we have created a blog post on the personal experiences of a University exchange student in Singapore. Read more about her views on coliving and why this is the best option for students, as well as many other experiences she had along the way in the 'Singapore to Southampton: Moving to Singapore for my University Exchange' blog here!
Daniel's Tips and Tricks
Check out Daniel's Tips and Tricks for Life in Singapore. Daniel has been living in Singapore since 2019 and has written an extensive blog where he made sure to cover everything from home search to life admin, food recommendations and tourist tips. This informative article will be sure to have all the information you will need for a smooth and easy relocation process. 
Want to Learn More about Coliving and the benefits?
If the words "convenience, community and affordability" piqued your interest, how about reading our blog on coliving, what it is and what benefits it brings to your life. Read more about it here.